This Chianti Classico, from Tuscany I believe, is a great wine for the seaside in my opinion, despite the fact that one frequently selects lighter, white wines for seafood pairings.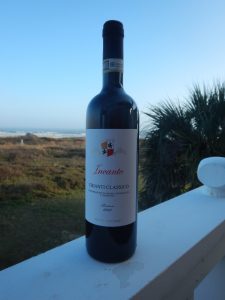 However, this Chianti (Riserva 2012, D.O.C.G.), can go well with a roasted chicken, a Caprese salad, or perhaps even some deeper-toned seafood entrees such as salmon or tuna steak.
I think this works well when you're near the sea, because the deep, rich flavors seem to be nicely complimentary with salty sea breeze.
Considering that this can be obtained at very competitive prices at Trader Joe's, this is an excellent wine for the money, and I highly recommend it!